Date/Time
Date(s) - 27/08/2017 - 01/09/2017
All Day
Location
Foz de Iguacu
Categories
The Society for Ecological Restoration (SER) will hold its 7th World Conference from August 27 to September 1, 2017 in Foz do Iguassu, Brazil. SER is delighted to partner with South America's two leading restoration organizations, the Sociedade Brasileira de Restauração Ecológica (SOBRE) and the Sociedad Ibero-Americana y del Caribe de Restauración Ecológica (SIACRE), to host this worldwide and continent-wide gathering of professionals working in the field of restoration. In addition to being the 7th World Conference of SER, this event is also the 5th Ibero-American & Caribbean Conference on Ecological Restoration and the 1st Brazilian Conference on Ecological Restoration.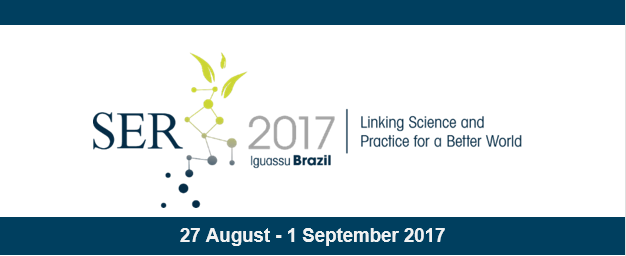 The theme for SER2017 is "Linking Science and Practice for a Better World". The conference will seek to not only provide a dynamic and engaging platform for knowledge sharing among the many actors involved in restoration, but also to leverage the unique chemistry among the three hosting organizations to explore emerging ideas and address restoration challenges across geographic scales — from national to regional to international.
The SER2017 Program Committee is now inviting proposals for symposia, workshops, and training courses to be offered as part of the conference program. We welcome proposals addressing any aspect of restoration science, practice or policy. The deadline for submissions is December 20, 2016.
Find more details on the call for proposals here.
For more information about the event, please visit the conference website. Here you'll also find more information on the venue.