The Blue Challenge, a project on blue economy coordinated by ESP member and Costa Rica NN lead Marcello Hernández-Blanco in 16 countries in Latin America, in partnership with the Forever Costa Rica Association and the Center for Marine Research of the University of Costa Rica, organized a series of events with Robert Costanza in Costa Rica to talk about the ecological economics approach to development, especially in a country like Costa Rica which has shown significant achievements on sustainable development, but that also has important challenges.
Read on for Marcello Hernández-Blanco's summary of last months events organised in Costa Rica:
Symposium with Robert Costanza – Perspectives on Blue Economy: From PreCOP25 to the 2030 Agenda, 29 October 2019
Since Costa Rica organized last month the UNFCCC PreCOP25, which had a focus on blue economy, we wanted to take that momentum of interest and organize a Symposium to explore this topic further, making a connection between the PreCOP and the Agenda 2030. The Symposium had the main goal to present a vision of sustainable use of blue natural capital (coastal and marine ecosystems) for human wellbeing, as well as to present case studies on national and regional projects such as the Blue Challenge.
Professor Costanza, who was my Ph.D. supervisor at the Australian National University, talked about a new way of looking at development, one that is not focused only on growth and GDP, and instead a development that values other key components of human well-being such as natural capital. This event was held at the Center for Economic Policy for Sustainable Development at the National University of Costa Rica.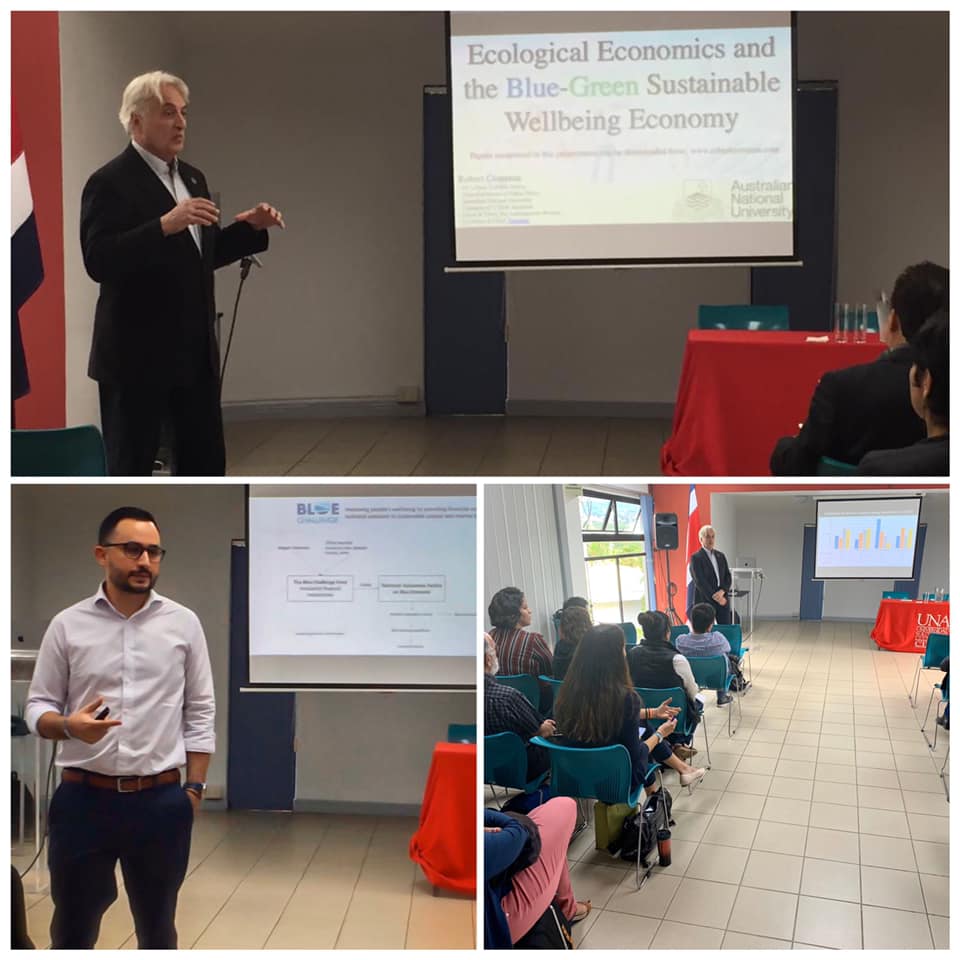 Public lecture with Robert Costanza, 31 October 2019
As a follow up of the Symposium, we organized a public lecture with Professor Costanza at the National University of Costa Rica, in which he went more in depth of natural capital valuation and management. Professor Costanza gave an overview of the history of ecosystem services science, the methods to value them, and some insights on how Costa Rica can continue making progress on natural capital management through new innovative approaches to financial schemes, such as the one the country's already have on Payment for Ecosystem Services, and event improving this scheme.