The ESP Asia Regional Office is established in Gyeonggi-do, Republic of Korea due to active support by the Gyeonggi provincial government and Asian ESP members after the inaugural ESP Asian Regional Conference in 2016. The Asia Office is located close to DMZ (demilitarized zone between South and North Korea), resonating the meaning of "Nature for Peace" in transboundary areas.

Major Activities
ESP Asian Partnership: The Asian ES Partnership will be strengthened through data-sharing and cooperative projects among ESP members.
ES Training & Capacity Building: In collaboration with GIZ, ESP has conducted training and capacity building programs during ESP conferences. We will further develop ES curriculum and support collaborative trainings to meet the demands of local policy makers and practitioners.
"Nature-based Solution" Demo-Projects: To maintain ecosystem services between nature and human and also to achieve sustainable development in our society, we promote "nature-based solutions" and implement integrated ES approaches in collaboration with different stakeholders.
ES Fund Raising: To support the acquisition and long-term ecosystem management of critically important biological areas, endangered species habitats and ecological corridors, we initiate PES mechanism and raise ES Fund linked to local projects.
Governance
The Executive Committee (EC) and Steering Committee (SC) of ESP Asia Regional Office are selected for the next term 2019-2020. The members of EC and SC are listed below.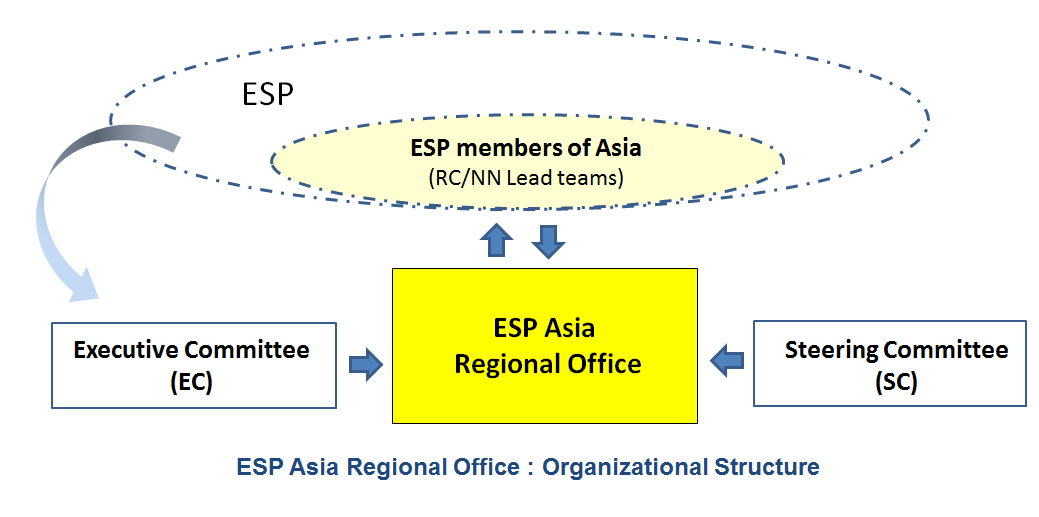 Latest News
生態系服務亞洲培訓成功舉辦/The international training on "Integrated Ecosystem Services Assessment " successfully held in Taiwan,  2023
Training on Integrated Ecosystem Services Assessment, 15-17 May 2023
"Nature for Peace" Forum, 4 May 2022
'UrbanbyNature' Webinar series in Korea, 2021
Special Issue on Ecosystem Services in Asia, 2020
A quick guide to implementing ES approaches for policy makers, 2019
Gyeonggi-Liaoning Afforestation Project in Norhern China, 2019
Participatory Assessment of Ecosystem Services in Ansan Reedbed Wetland, Oct 2018
2018 ESP Asia Regional Conference, 9-12 Oct 2018
2018 DMZ International Forum, 6-7 Sept 2018
International Training on Integrated Transboundary Nature Management, 19-26 Oct 2017
Ansan International Conference on Urban Forest, 29 Sept 2017
DMZ International Forum on Applying Ecosystem Services for Transboundary Nature Management, 13-15  June 2017
(Download Flyer)
MOU with Gyeonggi Provincial Government, 23 Sept 2016
MOU with Chungnam Provincial Government, 23 Sept 2016
ESP Asia Regional Office Vision Forum, 22 Sept 2016
English / Korean 
2016 ESP Asia Regional Conference, May-June 2016
Contact
| Address: | Email: |
| --- | --- |
| ESP Asia RO | [email protected] |
| Social and Economic Community Center, | |
| 43 Susaengno, |  Tel: |
|  Seodaemun-gu, |  +82-(0)70-8887-3000 |
|  Seoul Special City, |  Fax: |
|  Republic of Korea, 03715 |  +82-(0)504-218-4591 |
The ESP Asia office welcomes professionals who would like to contribute their ES policy case to build up a ES policy database worldwide to apply ES approaches into policy implementation. For more details and further inquiries, please contact [email protected].