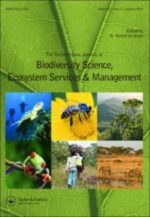 The International Journal of Biodiversity Science, Ecosystem Services & Management (IJBESM) will move to full open access from 26 September 2016 onwards. The journal responds to requests by most funders and policymakers, who want the work they fund available to everyone. The regular Article Publishing Charge (APC) will be €625 only. Full ESP members will receive a 15% discount on the APC. Manuscripts submitted before September 26th will, if accepted, become available open access for free.
The Editorial Team (Dolf de Groot, Alexander van Oudenhoven & Matthias Schröter) have made this decision in consultation with five Associate Editors (many of which are active ESP members). Apart from the fact that funders increasingly acknowledge the need for results to be made publicly available open access, funds are also increasingly made available for open access publication. In addition, IJBESM publishes many studies from non-western countries, and open access publication should contribute to making knowledge from these regions more easily available to both researchers, students and managers.
The scope, article types and (double blind) peer review process will remain the same. IJBESM welcomes research that addresses biodiversity and/or ecosystem services in an interdisciplinary way and that provides findings and recommendations relevant for decision making on ecosystem services and biodiversity, sustainable land and water management, land-use planning and conservation.
As stated above, the publishing charge (APC) for IJBESM will be €625 (£470/$750), which is in line with current funding and other journals in the field. In addition, Taylor & Francis (the publisher), has also negotiated APC discounts with some institutions who will cover their authors' APCs at a discounted rate. A waiver programme for scholars in emerging regions (no fee, or $250, depending on country) will also be in place. Click here for more information.
Finally, in order to strengthen the ties with the Ecosystem Services Partnership ESP (www.es-partnership.org), full members of the ESP will receive a discount of 15% on their APC. However, if you submit your manuscript before September 26th, it will, once accepted, become available open access for free.