Four members of the ESP Mediterranean working group (Mario Balzan – Malta College of Arts, Ioannis Vogiatzakis – Open University of Cyprus, Céline Dubreuil – Plan Bleu, France – and Alejandra Morán – CREAF-CTFC, Spain), together with other 36 experts from across the Mediterranean Basin, participated in a workshop on Mediterranean Ecosystems and Ecosystem Services in Marseille, France, from the 17th to 19th of July. The workshop was organized by the MedECC (the network of Mediterranen Experts on Climate and Environmental Change; ) and Plan Bleu.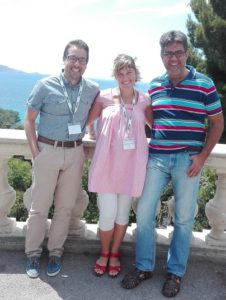 The objective of the workshop was to advance on the development of a comprehensive synthesis of the global change knowledge available for Mediterranean Basin ecosystems (both terrestrial and marine). Participants of the workshop worked hard during the three days to identify the main drivers of change impacting Mediterranean ecosystems, as well as their main current and future risks and vulnerabilities. The work in the report will continue during 2017 and 2018. The MedECC will also work closely with public and private decision-makers and stakeholders to guarantee the knowledge transfer between the science and policy.
If you are interested in contributing to the MedECC as an expert, you can contact the MedECC organization at [email protected] or fill this very short online survey  to subscribe to their mailing list.