There are a number of recently accomplished and currently ongoing studies from the Centre for Ecological Services Management at the Indian Institute of Forest management, Bhopal, India. Read more about each of the studies in chronological order:
1. Review of existing ecosystem accounting initiatives and literature in India: Biophysical assessments, economic value of ecosystem services, and overview of available data sources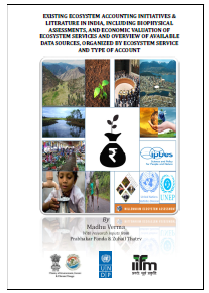 The study was conducted as part of the United Nations Statistics Division (UNSD), UN Environment, and the Secretariat of the Convention on Biological Diversity. The study's aim is to mainstream natural capital accounting and valuation of ecosystem services in data-driven decision and policy making and influence at the national, regional and local level. In view of this, the Indian context involved reviewing existing ecosystem accounting initiatives and literature in India, stock-taking available data sources for compiling ecosystem accounts, identify and engage institutions and agencies active in this field by understanding their policy goals and mapping their interests and identifying their potential contributions to the System of Environmental – Economic Accounting-Experimental Ecosystem Accounting (SEEA-EEA) India project and also possible avenues for cooperation with stakeholders. The report reviewed 146 ecosystem services studies in different ecosystems of India and additionally provides comprehensive list of potential case studies based on nine criteria that can be undertaken by SEEA-EEA India. This review report has brought out the various studies that have been done in ecosystem services domain and also enabled to highlight future directions on the type of studies that can be undertaken in India. The study was accomplished in November 2018.
2. Study on Consensus Building and Development of Action Plans for Joint Bangladesh-India Sundarbans Management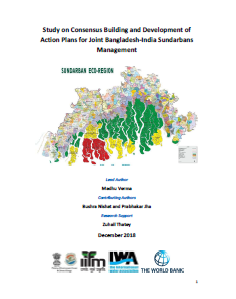 The project is based on the draft framework developed by International Water Association and World Bank on the Economic Case for Cooperation on the Sundarbans. The project identifies the past interventions in areas of cooperation and further explores new avenues for joint management in this transboundary ecosystem. The identified sectors where reduced economic costs for management and possible collaborative action could be undertaken were ecosystem services, border haats, improved fisheries management, infrastructure development, tourism development, forest conservation, biodiversity & marine resource conservation among a few. Currently, policies and institutional setup that enable shared management and deliver observable benefits are in the fisheries, storm protection and tourism sectors. The report has also identified the possible costs of non-cooperation in these sectors, but more research needs to be conducted to arrive at the actual costs. There are also gap areas especially in data availability, monitoring ecosystem service indicators, linking institutions for joint action between the countries and allocation of financial resources. This study has initiated preliminary research in assessing the economic benefits of cooperation and costs of non-cooperation between Bangladesh and India in Sundarbans regions and also indicated future opportunities for ecosystem service studies. The study was accomplished in December 2018.
3. Green accounting of forest resources , framework for other natural resources, index for sustainable environmental performance for Uttarakhand state of India  & capacity building on  environmental statistics and green accounting funded by Uttarakhand Department of Planning, India (2016-18)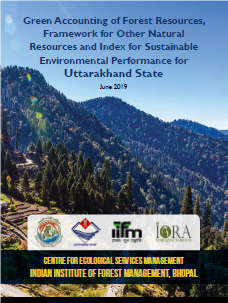 The study aims at the identification, understanding and enlisting various environmental and forestry issues in Uttarakhand through Group Consultations, Key Informant Interviews, field surveys, etc.  Compilation of data through secondary sources at range/circle level to construct physical accounts and valuing changes in stocks & flows in monetary terms for forest ecosystem services.  Identification of indicators for Index for Sustainable Environmental Performance Developing frameworks for NRA of land, water and minerals (outside recorded forest area) using SEEA framework of UNSD.
4. Economic Valuation of Tiger Reserves in India: Phase-II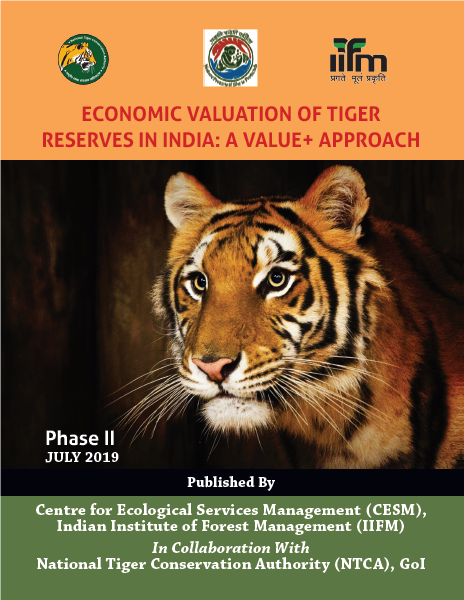 The study aims at qualitative and quantitative assessment of Ecosystem Services emanating from Tiger Reserves (TRs) in India. Tiger Reserves as important protected areas help in maintaining human well-being by providing a platter of benefits and supporting critical ecological processes. To highlight the same through valuation, the study is being executed in ten Tiger Reserves of India namely, Anamalai TR (Tamil Nadu), Bandipur TR (Karnataka), Dudhwa TR (Uttar Pradesh), Melghat TR (Maharashtra), Nagarjunasagar Srisailam TR (Andhra Pradesh), Pakke TR (Arunachal Pradesh), Panna TR (Madhya Pradesh), Palamau TR (Jharkhand), Similipal TR (Odisha) and Valmiki TR (Bihar). The study also explores use of various frameworks for presentation of values and put emphasis on uniqueness value for each tiger reserve. Use of InVEST modelling tool is also an important aspect of the study. The study will also attempt to assess the important factors affecting tourism in the tiger reserves. The study was assigned by the National Tiger Conservation Authority (India) in June 2016 and was accomplished in July 2019 and was launched by the Hon'ble Prime Minister of India on 29th July 2019 in New Delhi.
5. Recommendations to the 15th Finance Commission (FC) of India for Enriching Current Tax Devolution Formula for Increased Allocations of Funds towards Forests, Environment & Climate Change funded by MoEFCC, New Delhi.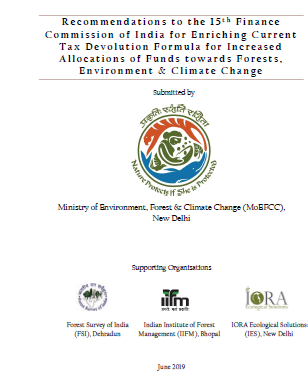 The study inteds to identifying indicators to include (i) forest, (ii) environmental quality and (iii) climate change mitigation, adaptation and vulnerability of states for enriching current tax devolution formula; developing a measurable performance-based framework for aggregating all identified indicators; validating framework through varied stakeholder consultations across India; demonstrating framework through State-level estimates primarily via literature review, interaction with experts, interactions with  MoEFCC officials, officials from  CPCB and Municipal bodies, regional consultation workshops, experts workshops, and draft recommendations presentations to the Finance Commission .
Ongoing Studies:
Forest resource accounting & valuation of economic contribution of forest and protected areas in Rajasthan & capacity building of forest personnel on forest resources valuation and accounting
Forest resource accounting & valuation of economic contribution of forest in Jharkhand State
The studies aim to measure the benefits of forests and their contribution in terms of monetary value to the respective states. They also aim to develop a framework for Forest Resource Accounts using the United Nations developed System of Environmental-Economic Accounting (SEEA)-Experimental Ecosystem Accounting (EEA) method. The SEEA-EEA framework integrates environmental information (majorly statistics) into the economic statistics. The SEEA-EEA framework adopted in 2013 provides a platform for integrating information on ecosystem assets (ecosystems such as forest, wetland, agricultural system and their spatial extent and condition, the services they provide and their capacity to sustain those services) and accounting information on the economic activities dependent on ecosystems and the associated beneficiaries (households, businesses, governments). The SEEA-EEA is a satellite accounting system that adds to the United Nations System of National Accounts (SNA). By doing so, the status of the environment is evaluated alongside the economic growth and a pattern of consumption and production can be observed, therefore the dynamics can shed light into developing policies that enable sustainable growth keeping the natural environment in perspective. Additionally, the studies plan to conduct ecosystem services valuation of two protected areas using InVEST modelling tool to derive estimates of economic values of selected ecosystem services. The former study also aims to develop a capacity building module to train the forest personnel on forest resource valuation techniques to sustain the accounting process.