Below you can find the ESVD version of December 2020.
For this update, we teamed-up with Agrifood Economics Division (ESA) of the Food & Agriculture Organization (FAO). ESVD data are linked to the Biodiversity Integrated Assessment and Computation Tool (B-INTACT) for evaluating the 'social cost of biodiversity' indicator (one out of a set of indicators employed in the tool).
We focused on increasing the coverage of the database for natural terrestrial biomes in order to improve the current indicator robustness. In addition, we also expanded data towards Mangroves (coastal systems biome) as part of a meta-analytic application of ESVD, commissioned by the World Bank. The update in a nutshell:
Lasted 4 months (September-December 2020)
746 value records added
262 more studies analysed
282 records reviewed
PLEASE NOTE that the data is still skewed towards values for the UK (1360 value records or 28% of the total) with focus on inland wetlands and coastal systems from the previous update.
ALSO be aware that at the time of release (December 2020) approximately 1100 value records have been externally reviewed meaning that 77% of the 4800 value records have not yet been externally reviewed.
The review status of each value record is indicated in the database and will be updated periodically as the review process continues. Furthermore, there a lot more studies to analyse and thus, a lot more knowledge to be shared. At the current state of the ESVD literature repository, it is estimated, that there are about 17,900 value records still to be entered into the database.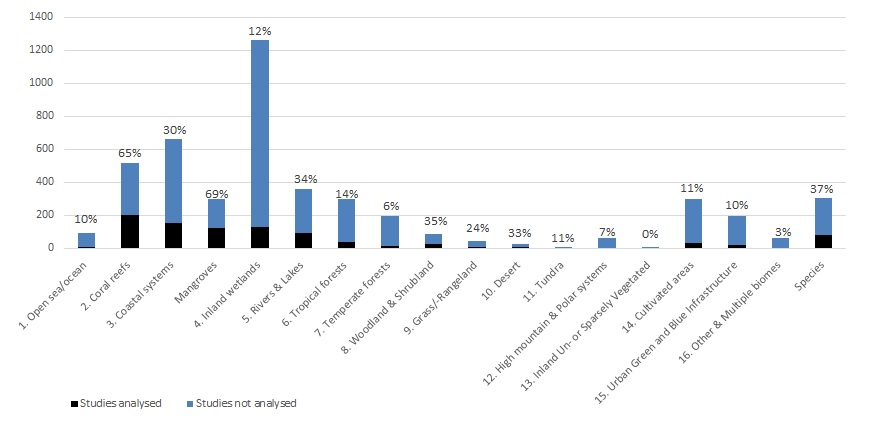 .
If you find mistakes, have suggestions for improvement or want to help, please contact Dolf de Groot.
click here to download the ESVD documentation note of December 2020 version 
click here to download the ESVD Excel file version December 2020 
We allow use for non-commercial, research and educational purposes aimed at supporting more sustainable ecosystem management and policy making. Reports using ESVD should be made publicly available and use correct citation. We would appreciate hearing from you if you use the Database.
Although ESVD is Open Source, a voluntary contribution would be much appreciated to maintain and further improve the database. Contributions can help us cover more biomes and regions as well as to further develop the database functionalities. Click here if you wish to contribute to the development of ESVD.